3 Benefits You Will Get in Downloading Motolite Res-Q App
In this world of social media; there are mobile applications that we can download for free like gaming, parenting, dating and more. If you're a motorists that want a rescue like had a flat tire, the batteries dies or the gas runs out, you can't do it on your own especially older person.
Now, MOTOLITE is here to the rescue with their MOTOLITE RES-Q app. I listed 3 benefits that we can get in downloading this mobile app.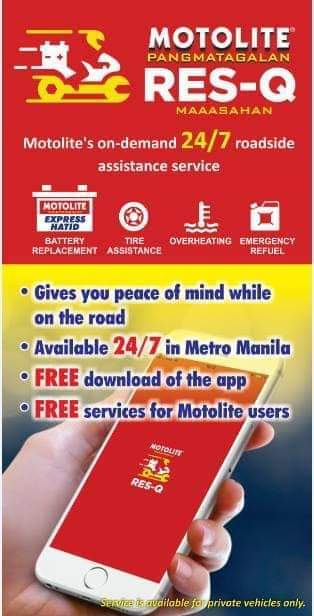 FREE to download from the App Store and Google Play. As easy as 1-2-3 tap in your mobile phone. It's a Motolite's way of giving motorists the peace of mind that when it comes to car troubles, we can rely to someone and they will help or assist us.
It allows you to see the profile of the RES-Q rider coming to you. Track exactly where he is in real time and rate them based on the services rendered.
If you have a Motolite battery installed in your vehicle, the RES-Q service will be free of charge. Motorist will only need to pay if a new battery is needed or in certain cases, coolant or fuel and they can pay either cash or by credit card. Now, they also consider to have payment like Pay Maya or G-Cash in the future.
"It is at the heart of Motolite's branding to guarantee a worry-free driving experience to our clients especially in Metro Manila. And to do this means addressing the more common problems they may face on the road and the Motolite Res-Q app is one way to achieve that objective of giving our customers that 'peace of mind while on the road.'' Motolite Vice President Ricky Chan said.
Motolite is more than just a brand that Motorists trust when it comes to their vehicles, they have been great in supporting our local athletes and partnership with the Ateneo Lady Eagles Volleyball Team is a perfect match as it aligns with the brand's vision of helping Philippine sports.
The Motolite-Ateneo Lady Eagles have showed dominance the entire conference despite having a relatively young roster behind the inspired plays of UAAP Season 80 Best Setter Deanna Wong, Kat Tolentino, Maddie Madayag, Team captain Bea De Leon, Ponggay gaston and rookie Vanessa Gandler.
Motolite is not only the Philippines' undisputed leader in automotive, motorcycle, and industrial batteries, it is also one of the few Filipino manufacturing companies ranked number one in the automotive battery segment in foreign markets like Australia and Malaysia.
For more updates about Motolite and their products; please visit their website at http://www.motolite.com/.